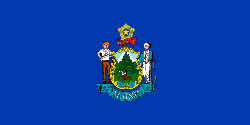 Maine
"Pine Tree State"
Motto

Dirigo (I lead)

Capitol

Name Origin

First used to distinguish the mainland from the offshore islands. It has been considered a compliment to Henrietta Maria, queen of Charles I of England. She was said to have owned the province of Mayne in France.

Statehood Date

March 15, 1820 (23rd)
Cities in Maine
NOTE: Not all cities are displayed. Please narrow your selection by using the search above.
Official Symbols
A state's official symbols represent the composition and culture of the land and people who live and have lived here. Below are the symbols of Maine along with the year they became official.
| | |
| --- | --- |
| Flower | White Pine Cone And Tassel (1895) |
| Tree | White Pine Tree (1945) |
| Bird | Chickadee (1927) |
| Fish | Landlocked Salmon (1969) |
| Mineral | Tourmaline (1971) |
| Song | "State Of Maine Song" (1937) |
| Animal | Moose (1979) |
| Cat | Maine Coon Cat (1985) |
| Fossil | Pertica Quadrifaria (1985) |
| Insect | Honeybee (1975) |
Demographics
Population Density

41.3 people per square mile
Geography and Weather
Land Area

30,862 sq mi. (79,933 sq km)

Lowest Elevation

0 ft (0 m)

Average Elevation

600 ft (182.88 m)

Highest Temperature Recorded

105°F (41°C) on July 10, 1911

Lowest Temperature Recorded

–48°F (–44°C) on January 19, 1925